Today in Africa, many challenges continually confront millions of people living with albinism first as individuals and as a demographic group within the continent. Across African countries albinos are classified amongst the vulnerable groups of society.
Indeed, albinism is defined as a congenital disorder resulting in complete or partial absence of pigment in skin, hair and eyes. Affected people have white skin and hair and reddish eyes. The conditions of albinism can lead to vision loss, extreme sun sensitivity and psychological issues stemming from embarrassment. That is the brief description given by the online newspaper India today, in their article: « Why albinos are being abducted, mutilated, raped and killed in Africa.
Our paper is a study on the analysis of albinos' protection and consideration as vulnerable minor groups in Africa. We decided to choose this topic because albinos' people are a marginalized community facing threat, discrimination because of their pigmentation, and superstitious cultural beliefs. We will analyze three online newspaper articles talking about the situation faced by albinos' people in Africa; particularly in Malawi, Tanzania, Kenya and Nigeria. From this analysis we are going to sort out the context of albinos' treatment conditions in Africa and the solutions put in place to ensure sensitization and acceptance of this minority in African countries.
*********************
Black with a white skin; that is how the online newspaper of TV5 Monde calls albinos who are facing many suffering and fear because of their white vulnerable skin in a cultural milieu where they are considered as magical people.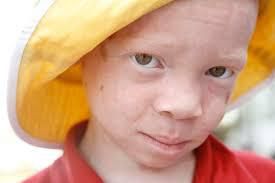 The first article of the newspaper India today presents the situation of albinos in Malawi. Indeed, most of albinos in this country are purchased or hunted for their body parts because of superstition beliefs considering that albinos body parts have magical power, that their bones contain gold, or have medicinal curing powers. According to this article, one of these superstition belief states that having sex with an albino's woman cures HIV Aids. These hunters even rob albino's dead bodies to sell it to trafickants.
Many women giving birth to albinos have been disowned by their husband and families while, both parents must be carriers of the gene to pass it on to their children. In addition, children with albinism are often abandoned by their parents or, infrequently, infanticide because of the appearance of their skin, the deficiencies they sometimes suffer because of their illness, and the belief that they would bring misfortune in the family[1].
According to the International Committee of the Red Cross (ICRC), full sets albino's body parts cost approximately $75000. Over 69 cases of albino's crimes have been reported by the malawian police. Neither the malawian police nor the government of Malawi have been successful in ensuring security and protection to albinos living in the country. There has been, according to the same investigations of the newspaper, a failure in the education of citizens about the natural causes of albinism.
According to the newspaper metro, 75 albinos have been killed since 2000 and in Malawi, 18 have been murdered since 2014 and 2/3 of all those victims are children[2]. The canadian NGO reveals at the same moment that 457 attacks and 178 murders toward albinos have been listed in 26 african countries. Comparing this analysis to BBC trending news; in 2015, a study by albinism awareness group under the Sun found that there were a total of 448 reported attacks on albinos 2015 across 25 African countries. In fact, the attacks constituted mutilations, violence, rape, attempted abductions[3]. Unfortunately, attacks on albinos are less reported or documented around African countries.
The deep-rooted prejudices faced by people with albinism around the world prevent them from accessing adequate health care, social services, legal protection and redress for violations of their rights. The forms of discrimination faced by people with albinism are interdependent. Their right to education, for example, is affected by their visual impairment, which sometimes forces them to drop out of school. A low level of education can in turn lead to unemployment and hinder their right to an appropriate standard of living, often relegating them to poverty.[4]
Ikponwosa Ero, UN albinism expert is an albinos person who has faced many abuses because of this congenital disorder. Ero is a Nigerian woman who has served in recent years as international advocate and lawyer for Under The Same Sun. In 2015, she has recently been appointed by the UN Human Rights Council to the post of Independent Expert on The exercise of human rights of persons with albinism.
In a Reuter's article « After abuse as a girl, UN albinism expert aims to end ritual murders », Ero affirmed that since her 5 years old, she was called names and insulted because she was an albinos. Characterized by a low sight ability, she had been beaten in class by her teachers thinking that she was lying when she was complaining about her low sight of the chalk board[5].
As said below, albinos people have vision problems that are not correctable with eyeglasses. This is caused by the anormal development of the retina and abnormal patterns of nerve connection between the eye and the brain[6].
As many albinos people, she was asking herself why she was born? Why did she have to face all this discrimination? Will she survive? Celestine Mutinda a Kenyan albinos, revealed to BBC news that some of them scare to walk along the road because they use to hear people saying they represent money from them. Indeed, many albinos in Africa are living in a constant fear for their life.[7]
However, as a UN albinism expert, her priorities are to : « end the brutal mistake attacks on people albinism by assailants seeking to use their body parts in withcraft. » To realise this great ambition, she intended to create an online fundraising to buy iron bars and sturdy locks for the door of impoverished rural families at risk of attack. She gained the support of Isaac Mwaura ; Kenya's first member of parliament with albinism. To start their campaign they organised a pageant for people with albinism in Kenya to reduce stigma.
In Kenya, Mwaura made a successful lobby in Kenya's parliament, to allocate $1.000.000 to provide people with albinism with sunscreen, hats, long sleeved clothes, eye care ad cancer treatment.
In 2013 and 2014, the United Nations Human Rights Council and the African Commission on Human and Peoples' Rights adopted resolutions (Security Council resolutions 23/13, 24/33, 26/10 Human rights and African Commission resolution 263), which called for the prevention of assaults and discrimination against people with albinism. On 18 December 2014, the General Assembly adopted resolution 69/170, proclaiming, as of 2015, 13 June World Albinism Awareness Day.
In Africa, the adoption the

Resolution 263 on the prevention of attacks and discrimination against persons with albinism (5 november 2013) ;

by the

African Commission on Human and Peoples' Rights has been a great success

. It urges state parties to take all measures to ensure the effective protection of persons with albinism and members of their families. And to ensure the elimination of all forms of discrimination against persons with albinism; and promote public awareness activities.

[8]
The international community on their own, organizes itself to fight against this problem, by organizing forums on albinism. It is the case of a forum on albinism welcome by Tanzania from 17th to 20th june 2016 that was aimed to sensitize people on the necessity to respect albinist people as human being. During this forum, Ero Ikponwosa stated that there are a lot of specific, practical, simple and effective measures that some countries have successfully used to tackle the issues faced by persons with albinism including having a dedicated office and budget on the issue, creating a telephone hotline to report crimes and threats, regulating 'witchcraft' and traditional medicine practitioners among others[9].
To complete the international community actions, many associations of sensitization are working around African countries to promote albinos rights as persons and support with medical aid; regarding their vulnerable health status.
A young Kenyan student, Peter Kiprop Koima; created a hashtag on Twitter #AlbinismIsJustAColour in order to promote albinos rights and beauty around the world.
**********
The protection of albinos in Africa is nowadays an urgent matter; because they are a minority who suffer from grave victimization because of their epidemiological difference. Raising awareness around this fact has led in Africa, to the adoption the

Resolution 263 on the prevention of attacks and discrimination against persons with albinism;

by the

African Commission on Human and Peoples' Rights

. This shows a real progress in protecting this minority in Africa. However, the fight must continue to promote Albinos rights and their protection in such countries like Tanzania, Malawi where awareness is less raised and crimes highly committed.